How a Routine Eye Exam Can Save Your Life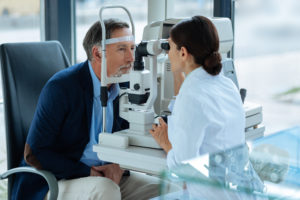 If you think an eye exam is just about seeing if you need glasses, think again! Many systemic diseases show up in the eyes long before symptoms manifest in other parts of the body. Getting a regular eye exam can literally save your life if you are found to have one of these illnesses.
Just a few of the potentially fatal diseases an eye exam can detect early include:
High blood pressure

Diabetes

Autoimmune dysfunctions

Eye melanomas

Brain tumors
While you might think it's a bit far fetched for an eye exam to save a life, there are countless stories online of people who claim just that.
During a routine eye exam, your doctor will conduct a series of tests to check your vision and any indicators of eye diseases. These tests will involve exposing your eyes to different lights and other stimuli while looking through various lenses. Be sure to bring any prescription glasses you have to use during parts of the tests.
The various tests done during a routine eye exam include:
Eye muscle test

Visual acuity test

Refraction assessment

Visual field test

Color vision test

Slit-lamp exam

Retinal exam

Intraocular pressure measurement
The retinal exam is particularly important for identifying and diagnosing life-threatening systemic diseases.
Routine Eye Exams in Tampa Bay
Getting an eye exam regularly is just as important as your annual medical checkup. If you live in Tampa Bay, trust your eye exam to the experts here at Justin J. Older Eyelid Institute. Our team has the knowledge and tools to thoroughly examine your eye structure and function and diagnose issues before they become problems. Call us at (813) 971-3846 for our Tampa office, or visit us online to find contact information for our other Tampa Bay locations. Don't risk your health by skipping out on this potentially life-saving preventative measure!