What Is Blepharoplasty, and When Should You Consider It?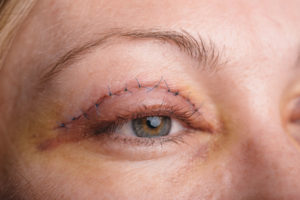 Do you have droopy or sagging eyelids? Does it interfere with your vision? Does it make you look older? There is an answer to these problems. Blepharoplasty is the medical term for cosmetic eyelid surgery. There are several different reasons you might want to consider blepharoplasty, but first it is important to understand what it is and when it is appropriate.
What Is Blepharoplasty?
When a surgeon performs a blepharoplasty, they remove excess skin and tissue from the upper eyelid. Sometimes both the upper lid and the lower lid are treated. Incisions are made along the eyelid to remove the excess tissue, either using a very thin scalpel or radiosurgery. While blepharoplasty is often considered an elective surgery, problems with peripheral vision due to drooping eyelids can make it necessary.
When to Consider Blepharoplasty
If your eyelids are drooping considerably, you should consider blepharoplasty as a means of correction. Excess skin on the eyelids can cause problems with peripheral vision. Drooping eyelids are also not as effective in protecting the eye and keeping it moist. You might also want to consider blepharoplasty if your eyes have a closed or tired look. Bags under the eyes can also be treated with blepharoplasty.
Considerations
When you elect to have blepharoplasty, you will need about seven to ten days for recovery. Bruising and other signs of the surgery will disappear usually within two weeks. It is important that you understand all of the recovery instructions and have enough time to set aside for your recovery.
If you are interested in blepharoplasty, contact us today for more information or to schedule your consultation and exam. We will be happy to discuss your options and help you make the right decision for you.