Heavy Eyelid Surgery Might Be Covered by Insurance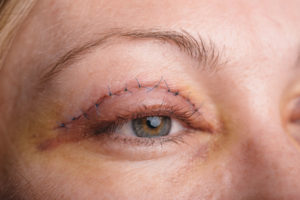 Health insurance can be very complicated, and it can be difficult to know if a procedure will be covered by your health plan. For the most part, cosmetic procedures are not covered by health insurance. However, eyelid surgery is different. If you can prove that the problem with your eyelids is a health concern, such as causing vision loss, you may be able to get it covered by insurance.
Examples of Medical Need
There are a lot of problems that you can have with your eyelids that can require medical intervention. Thyroid eyelid disorders and other conditions that keep the eyelid from closing could be detrimental to your vision and be covered by insurance. Another example is drooping eyelids when the eyelid is impairing your vision. If this can be confirmed by a vision test, you may be able to get it covered by insurance.
Proving Medical Necessity
While a surgeon specializing in eyelids should perform your surgery, you will need to see other doctors to get your procedure covered by insurance. In order to get such a cosmetic procedure covered, you have to first prove medical necessity. For eyelid surgery, you will need to visit an ophthalmologist so that they can diagnose problems with your eye or vision. Once these problems are diagnosed, you can advocate with your insurance company to cover the resulting procedure.
Working with Your Doctors and Insurance
The best way to see if your procedure will be covered by insurance is to talk to your insurance company and learn whether or not the surgery will be covered and under what conditions it will be covered. Your doctors may need to provide authorization forms to get the surgery approved by your insurance company. It is ultimately your responsibility to be the liaison between your doctors and your insurance company to work out a resolution.
If you are suffering from heavy eyelids and need surgery, contact us today for more information about how we can get your procedure covered by insurance.