Eye Conditions that Cosmetic Surgery Can Fix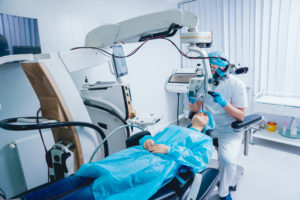 If age, trauma, or a medical condition has caused physical changes of your eyelids or issues with your tear ducts, you know how much those changes can affect literally every minute of your life. The muscles in and around your eyes are constantly moving, even when you're asleep! 
Here in Tampa, Dr. Older helps provide people with relief from debilitating eye symptoms with expert cosmetic and reconstructive surgery techniques. Depending on the condition causing the eye problems, Dr. Older will develop a surgical treatment plan that restores both the function and youthful appearance of your eye area.
Some of the most common eye conditions that Dr. Older treats include:
Ptosis
Ptosis, or drooping of the upper eyelids, can be congenital or acquired. Congenital ptosis presents at birth and usually involves poor development of the levator muscle that lifts the eyelid. Other eye problems often accompany congenital ptosis.
Acquired ptosis is typically caused by the aging process but can also be caused by trauma. Acquired ptosis usually involves overstretching of the tendon connected to the levator muscle.
No matter which type of ptosis you have, the primary concern will be the upper eyelid covering the pupil and blocking the upper field of vision. Many people try to live with the condition, consciously lifting their eyebrows in a futile attempt to improve their vision. However, once the eyelid droops to a certain point, only surgery can correct this problem.
Dermatochalasis
Dermatochalasis, also known as baggy eyelids, seems to be caused by a laxity in the skin and muscles that move the eyelids. It is typically an age-related condition, although genetics and some other disease processes can bring on the condition as well. Dermatochalasis can affect both eyelids but affects upper eyelids most often.
Entropion
Entropion is an inward rolling of the lower eyelid that causes skin and eyelashes to rub against the cornea and other mucous membranes. This constant rubbing causes excessive tearing, crusting of the eyelid, mucous discharge, irritation of the eye, and impaired vision. Entropion is almost always caused by age-related changes, but can also be caused by trauma, other diseases, and poor development of the eyelid in utero.
Ectropion
Ectropion is the outward rolling of the lower eyelid (the opposite of entropion) which causes the sensitive mucous membranes and cornea to be exposed, even when the eyes are closed. The constant friction and inability to properly moisten or clean the eyes can lead to infection, scarring, and even vision loss. Most cases of ectropion are caused by age-related relaxation of the muscles that support the lower eyelid, although some cases are caused by trauma, past surgeries, other diseases, or improper eyelid development at birth.
Blepharospasm
Blepharospasm is an extremely debilitating condition involving progressively worse spasms of the eyelid muscles. While this condition is still not fully understood, experts believe it has something to do with miscommunications in the brain that usually begins in a person's 50s or 60s. It develops with an increase in blinking and squinting that progresses to having to force the eyes to close and open. Blepharospasm is painful and can cause functional loss of vision, even if there's nothing wrong with the structure of the eye. Removing the muscles involved in the spasm and administering Botox® injections to the affected area have been shown to improve the condition.
Oculoplastic Surgery in Tampa Bay
If you're suffering from any of the conditions listed above or any condition of the eye that is affecting your vision and quality of life, Dr. Older can give you some much-needed relief. Don't continue suffering from crippling eye conditions that reduce your daily functioning and make life exhausting. Contact the Eyelid Institute at (813) 971-3846 to schedule a consultation appointment today!