When You Should Consider Getting a Blepharoplasty?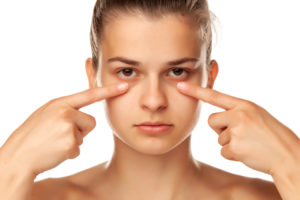 There are many reasons why a person could be considering blepharoplasty, which is also known as an eyelid lift. Blepharoplasty corrects loose, sagging eyelids, and is performed for both medical and cosmetic reasons. 
During a blepharoplasty procedure, small incisions are made that follow the natural folds of the eyelids, producing a more youthful appearance with virtually no scarring! 
So, when is the right time to opt for blepharoplasty? If you are experiencing any of the following issues, blepharoplasty might be a good choice for you:
Sagging Eyelids Are Impairing Your Vision
Sagging, drooping upper eyelids can actually impair your field of vision! Upper blepharoplasty can correct this by removing the extra skin from the upper eye area, leaving it looking as natural and ethnically correct as possible.
Your Eyes Make You Look Old
Upper blepharoplasty can reduce the appearance of fine lines and wrinkles around the eye area by tightening and stretching the skin. This effect is amplified when combined with other cosmetic procedures, such as a facelift. 
Lower blepharoplasty removes excess skin from below the lower eyelid, eliminating under-eye sagging by reducing the weight pulling down on the eye. 
Embarrassment About Sagging Eyelids is Affecting Your Social Life
Many of our patients report embarrassment or shame about the drooping, sagging skin around their eyes. If not resolved, these feelings can evolve into serious self-esteem issues and even stop you from socializing like you used to.
After recovering from your blepharoplasty, expect to get a major confidence boost! That more youthful look will make you glow from the inside out, and everyone you see will feel the positivity that you're radiating. 
You Suffer From Severe Migraines
Blepharoplasty that targets specific facial nerves can actually reduce or even eliminate migraines completely, according to a very small body of research. More investigation is needed to support the claim, but this could be a game-changer for migraine sufferers who are also experiencing signs of aging!
Schedule Your Blepharoplasty Procedure Today
If you're experiencing vision impairment due to droopy eyelids, have severe migraines that traditional remedies haven't helped, or are just dissatisfied with how your eye area looks, contact the experts here at the Eyelid Institute in Tampa. We can discuss how blepharoplasty can improve both your visual health and self-image, giving you the confidence to get back out there! Call us at (813) 971-3846 to schedule your blepharoplasty consultation today!