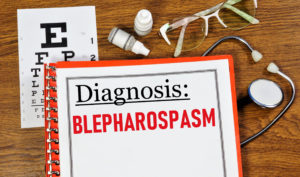 Have you ever experienced involuntary movements, or twitching, in the muscles of your eyelids? This can be fairly annoying, but for most people, twitching goes away after just a few minutes, or at most, hours.
But, what if your eyelids twitch for several days or even months at a time?
If your eyelids twitch for more than a few days without stopping, your eye doctor will likely want to examine for blepharospasm, or a spasm of the eyelid muscles. While blepharospasm is rare, it can completely stop sufferers from being able to complete activities of daily living, severely impairing quality of life.
Doctors aren't sure what exactly causes blepharospasm, but women aged 40-60 and individuals with a family history of blepharospasm seem to be at a higher risk of developing it. Continue Reading