What Your Dry Eyes Could Be Telling You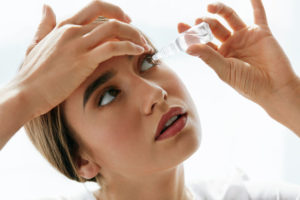 Dry eyes are one of those symptoms that a lot of people write off or ignore. Oh, it's just allergies. No, really, I must have just walked through some smoke or something. No, my eyes just tear up sometimes. Nothing's wrong. Any of these sound familiar? If so, you should be considering what your dry eyes might be trying to tell you.
Dry eyes aren't just a symptom of allergies, poor air quality, exposure to winds and cold temps, or side effects of medications. There are also a lot of health conditions and eye conditions that could be diagnosed with a symptom of dry eyes. Dry eyes themselves can also cause blurry vision, although that vision loss is usually not permanent. For these reasons, it is important to see a doctor as soon as you notice that your eyes are dry.
Here are a few of the eyelid conditions that can lead to dry eyes.
Ectropion is a condition in which the lower eyelid turns outward and sags, preventing the eye from closing and lubricating properly.

Entropion is the exact opposite of above—the lower lid turns inward and upward, but the end result of dry eyes is the same.

Eyelid retraction is a condition most often related to thyroid disease, but patients don't necessarily have that condition.
If you have chronically dry eyes with seemingly no cause, but you also have eyelid troubles, the two could very well be connected. Contact us today to schedule your appointment to discover how we might be able to help you.