Three Ways Your Eyelids Can Affect Your Vision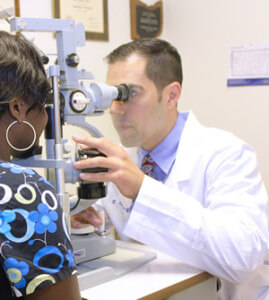 Did you know that your eyelids can affect more than just your appearance? There are some problems that occur with eyelids that can actually affect your vision. When you have these conditions, it is important to seek out a diagnosis and treatment to prevent any lasting vision loss and to protect the health of your eyes.
Eyelid Retraction
Eyelid retraction is when the eyelids pull away from the eye. It can give you a staring look that is unattractive, but the real problem is that the eyelids are not able to sweep across the cornea to keep it moist as they should. This can cause the eye to become very dry. In advanced cases, the eyes may not be able to close at all, which puts the cornea at risk. This condition is most common in people with thyroid disease, but it does occur from other causes.
Entropion
Entropion is the medical term for when the lower eyelid turns inward toward the eye. This, too, can cause problems with the tear duct, leave the eye unprotected, and cause dry eyes. This is also a very easy problem to correct with radiosurgery, and it should be treated as quickly as possible.
Ectropion
Ectropion is the medical term for when the lower eyelid turns outward. When this happens, the eye cannot fully close. Eyelashes may begin to fall out, and your eyes will not be able to stay moist. This can also cause problems with the tear duct.
All of these conditions are easily treated with radiosurgery in our clinics. If you have one of these problems with your eyelids, contact us today for more information or to schedule your appointment for an exam and consultation.