Recognizing Eyelid Problems During Allergy Season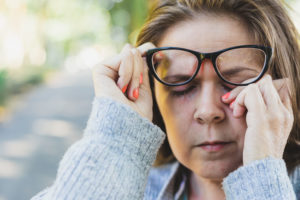 Florida's allergy season actually lasts quite a long time, anywhere from February through November, depending on the allergen. If you have seasonal allergies, you probably experience a lot of eye and vision-related symptoms during allergy flares. When you have these issues frequently, the allergy symptoms can mask symptoms of other eye conditions.
There are a few different eyelid conditions that can cause symptoms similar to allergies. One of the hallmark symptoms of pollen allergies is swollen red, dry, itchy eyes. 
What about when your eyes water? That doesn't mean your eyes aren't dry — quite the opposite. When your eyes are very dry, they will tear in an attempt to correct the problem naturally.
But dry and irritated eyes are not necessarily just caused by your allergies. Many eyelid conditions can prevent the eye from closing completely. This can cause the eyes to dry out and become very irritated. Combined with pollen allergies, the eyes can become very swollen as well.
If you are having problems with dry and irritated eyes, even when other allergy symptoms are mild or nonexistent, you need to come to see us for a complete examination. Contact us today to schedule your appointment.