Early Symptoms of Thyroid Eye Disease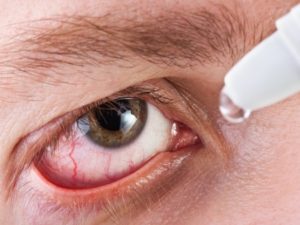 Thyroid eye disease is most often caused by hyperthyroidism, which itself could be the result of Graves disease. Most people who are diagnosed with Graves disease develop thyroid eye disease within six months. Graves disease is an autoimmune disorder, and thyroid eye disease is the result of the body's immune system creating new tissue, muscle, and fat behind the eye. 
These extra tissues, muscles, and fats can push the eye outward, making them bulge. This can lead to the eyelids retracting and not completely closing over the eye. When that happens, you risk permanent damage to your cornea, which would at that point be unprotected.
Although thyroid eye disease is mostly caused by hyperthyroidism, treating hyperthyroidism will not necessarily treat the thyroid eye disease. Sometimes people don't even develop thyroid eye disease until a long time after they have been treated for Graves disease or hyperthyroidism.
If you have hyperthyroidism, it is important that you pay close attention to eye symptoms. The most severe symptoms include double vision, sensitivity to light, and bulging eyes, but you will have milder symptoms before those develop. By paying careful attention to your body, you can seek treatment as soon as symptoms become apparent.
The most common early symptoms of thyroid eye disease include:
Dry eyes

Eyes feeling gritty

Itchy eyes

Eyes frequently watering

Red and irritated eyes
If you develop any of these symptoms, it is important to see your doctor right away. Treatment is more successful and less invasive if the disease is discovered early. Your doctor will develop the best treatment plan, which may include lubricating eye drops, taping eyelids closed during sleep, elevating your head to decrease swelling, and prescribed steroid treatments.
If symptoms can be controlled with these methods, thyroid eye disease usually resolves itself within one to three years. However, if uncontrolled, the symptoms can worsen leading to permanent vision loss before the cycle ends. If the symptoms cannot be controlled using these means, surgery may be required. 
If you have recently been diagnosed with Graves disease or hyperthyroidism, you should be examined to make sure you do not have the early warning signs of thyroid eye disease. Contact us today to schedule your appointment.